대부분의 스마트폰은 컴퓨터에서 데이터를 관리할 수 있는 매니져 프로그램이 제공됩니다  안드로이드 폰도 예외는 아닌데 이런 프로그램을 사용하기 위해서는 케이블을 이용해 컴퓨터와 연결을 해야 하죠
하지만 Android Manager WiFi 를 사용한다면 앞으로는 선없이 안드로이드폰에 저장된 데이터를 컴퓨터와 동기화 해서 백업하고 관리할 수 있습니다  게다가 기능 또한 제조사에서 제공되는 매니져 프로그램보다 낫기 때문에 유저들에게 보다 편리하리라 생각됩니다
이 기능을 이용하기 위해서는 PC 프로그램과 안드로이드용 앱이 필요한데요  아쉬운 부분이긴 하지만 현재 윈도우용만 지원되기 때문에 맥이나 리눅스에서는 이용이 불가능합니다  그리고 동일 네트워크에 접속된 와이파이가 필요합니다  한마디로 하나의 공유기에 컴퓨터와 와이파이로 스마트폰이 연결되어 있으면 사용이 가능합니다
앱을 설치한후 처음으로 해야할 일은 안드로이드폰과 윈도우 프로그램을 연결하는 것인데요  안드로이드폰에서 앱을 실행시키면 IP 를 보여주는데 이걸 기억해 놓아야 합니다  그리고 PIN 설정을 해줘야 하는데요  이를 통해 다른 유저가 자신의 안드로이드폰에 접속을 할 수 없도록 막을 수 있습니다  IP 와 PIN 은 윈도우 프로그램 메뉴의 Settings 항목 아래 Connections 에 입력하면 됩니다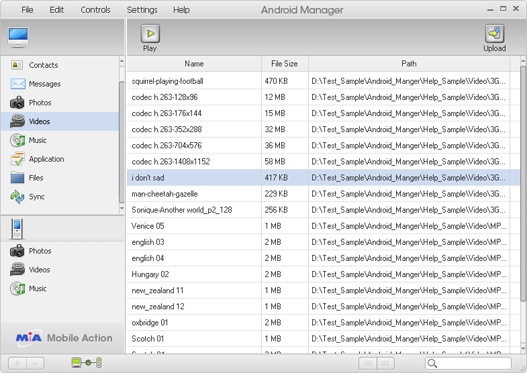 동기화는 주소록, 문자메시지, 사진, 동영상, 앱, 파일이 가능합니다  문자메시지의 경우 Android Manager WiFi 를 통해 폰을 이용하지 않고 윈도우 프로그램에서 발송이 가능하며, 파일 매니져로써 윈도우에 있는 파일을 드래그&드랍으로 안드로이드폰에 저장할 수 있습니다  MS 아웃룩을 이용해 안드로이드폰과 주소록 동기화도 가능합니다
윈도우 프로그램과 안드로이드 앱 모두 무료로 제공되며 프로그램은 아래 링크에서 안드로이드 앱은 마켓에서 검색하면 설치가 가능합니다
http://blogit.blogkorea.net/39088890/http://paperinz.com/2036
About Product
i-gotU GPS Tracker
i-gotU GPS Logger
i-gotU GPS Computer
Phone PC Tool
Wireless Music Gateway
Product Distribution
Android Manager WiFi
Contacts
Contacts allows you to back up contact entries so that you don't have to worry about losing, breaking, switching phone or changing service providers, as well as organize your contact entries and keep yourself on track all the time.
Messages
Messages frees you from painstakingly inputting text on the keypads. Android Manager sync with your handset message automatically and you can send message at PC via handset easily!
Photos
Photos allows you to easily import photos from PC or the handset and organize them in different albums for better management. Furthermore, you can quickly edit any photo and upload it to your handset as a wallpaper.
Videos
Videos allows you to insert video files from PC for playback and then upload to handset folder. Similarly, video files on the handset can also be downloaded to PC for playback.
Music
Music function is a powerful media file management tool that works seamlessly with the handset. Quickly search your favorites in PC, manage the ultimate Library, and enjoy the easiest digital jukebox in your own mobile way.
Application
Application allows you to import downloaded mobile applications and have them installed into your handset upon synchronization.
Files
Files allows you to organize Handset files with just a few clicks and files on the Handset can be at where you want them to be.
Sync
Sync allows you to synchronize the following items between Windows Contacts/Outlook Express/Outlook and the handset.
Windows XP and above
250MB free disk space
Outlook 2003 and above (For sync with Outlook)
To use Android Manager WiFi via WiFi connection, your Android handset and PC must be connected to the same Wi-Fi Access Point.
English, Chinese(Traditional), Chinese(Simplified), Deutch, French, Italian, Spanish, Russian

Contacts


Messages


Photos

Videos

Music


Application


Files


Sync


Android Space

Android Manager OEM
The Android Manager OEM solution is a cost-effective and value-added product that makes global branding much easier for Android phone manufacturers. Integrated with any Android handset, Android Manager serves as a comprehensive solution that takes mobile content management up a notch, bringing more charm and joy to consumers' phone experiences. Check out more fun and advanced features that Android Manager can offer you, and see how handy and valuable your phone can be with this powerful tool.

Customized User Interface and brand logo.

Up to 20 languages supported for global branding.

Richer and more advanced features than WiFi free version.

Low integration effort, fast time to market.
Mobile Action specializes in mobile software development, and endeavors to deliver innovative and value-added mobile solutions that enrich user experiences via mobile communication. Should you have any inquiry about our product and mobile project, feel free to contact us at:oem@mobileaction.com.
©2009 Mobile Action Technology, Inc.
http://global.mobileaction.com/product/product_AM.jsp
Android Manager
Android Manager WiFi is the first Wireless PC Sync Tool in Android Market. With Android Manager, you can manage your handset data easily and wireless sync with your PC via WiFi technology. Including contacts, messages, photos, video, music, applications and calendar.
For using Android Manager, you must download the two software below:

1. Install Android Manager WiFi on PC
(Note: It does not support to sync with Outlook Calendar for Android 2.2 currently)

2. Install Android Manager WiFi Agent on your Android phone, you can download from any one of the download links below.

a. [Download from Android Market] Recommended
Please go to Apps > Tools to search and install the Android Manager WiFi software.


---

b. [Download from Moible Action]
Please input the link below on your Android phone to download it
http://ds.mobileaction.com/android/amagentwifi.apk

---
Android Manager can be easily set up within 5 simple steps:
Step1. Install Android Manager on PC
Step2. Install Android Manager Agent on handset
a. [Download from Android Market] Recommended
Please go to Apps > Tools to search and install the Android Manager WiFi software.

b. [Download from Moible Action]
On your handset, please go to: Settings > Applications, and enable Unknown sources.

On your Android phone, open your browser and directly input the download link (http://ds.mobileaction.com/android/amagentwifi.apk) to download Android Manager Agent.
Locate the downloaded file in "Download history", and click to start installation.

Step3. Launch Android Manager Agent on handset
Open Android Manager Agent after installation is completed.
On the Welcome page, click Next button to get into Android Manager Settingspage, and complete configurations required for WiFi connection:
PIN Code: Set up a PIN code for connection to PC. This code must be entered on both PC and handset to establish connection.

Idle timeout: Set up a time period to be waited before WiFi connection is turned off for power saving.

Return back to the main connection page, and make sure your handset is connected to a wireless access point.
Step4. Start connection with handset
On Android Manager, go to: Settings > Connection, and enter the PIN code previously set up in your handset and the connected WiFi IP address.

Step5. Verify connection on handset
On your handset screen, verify whether connection between PC and handset is successfully established.
If WiFi Sync happens to be off, click it again to start establishing connection.
Accordingly, PC and handset should be connected immediately within a few seconds.


Note:Android Manager Agent will turn off WiFi connection automatically after program has been idle for a while, for the sake of power saving. To resume WiFi connection, please return to your handset screen and press WiFi ON.
---
Android Manager Manual